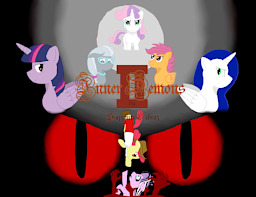 This story is a sequel to Inner Demons
---
Equestria's Darkest Hour was only the beginning... The end of days are fast approaching...
Twilight faced her darkness and made peace with it. Now she can face who she is, and not a moment too soon. The greatest battle in Equestrian history is about to begin, and she'll need to understand just how deep the darkness in her heart goes in order to face the threats to come. However, in preparation for the worst event in Equestrian history, she'll have to protect a mare that may be the key to everyone's destruction. Even worse, she has to deal with an old enemy/former friend that's intent on saving the world her way, which means killing the life that Twilight wishes to protect. But can a demon truly do an angel's job, or is Twilight simply deluding herself?
"Can I atone for my sins...?"
For years Diamond Tiara has been contending with dark feelings, night terrors, and blackouts she can't explain. When Apple Bloom, the love of her life, was here, she could handle it. Now that Apple Bloom is gone though, Diamond Tiara's sanity is slipping, and she's becoming something horrible. Good news, she's beginning to understand what she is now. Bad news, she hates it, because the more she learns, the less likely it seems she can be saved.
"Wh-what am I?! Apple Bloom, help me!"
She is the Guardian of Equestria, sworn to defend the golden land of Terra from any and all threats. Vale's life was saved by a Unicorn who's heart was more pure than even her own, but now she has to carry on her life and continue her own mission. That should be simple, except for three things standing in her way. Midnight has once again chosen to stand against her, the lover of the one who saved her won't leave her alone, and strange foreign emotions plague her, hindering her mission. All she knows is that something in her heart is saying this isn't right.
"What's holding me back...?"
These three, and others surrounding them, will play an integral part in the events over the next month. As for what their places on the board are, unfortunately that's not entirely up to them.
Note: if you haven't read the other stories yet, STOP NOW and read the following:
Inner Demons
Inner Demons: 10 Years and Inner Demons: Fragments of Truth (these can be read in any order, but only after Inner Demons)
Cover Art by my friend The Spectralist!
Inner Demons II added to the TV Tropes page?! WHAT?! Go here to read it!
Chapters (15)