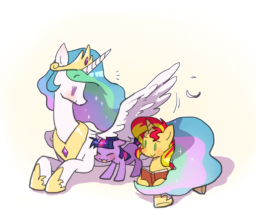 Source
Every day Celestia shares light and love with all the ponies of Equestria. In turn, they share their love with her. Still, the princess senses there is something missing. Something her heart longs for.
Something her responsibilities have denied her for all these years.
As luck would have it, she's given a gift that will let her experience her deepest hearts desires and take her to a place she may never want to leave.
Ever.
Inspired by the Alan Moore story, For the Man Who Has Everything.
Chapters (9)