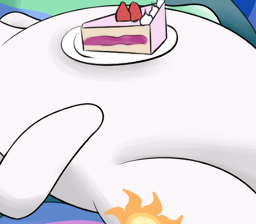 Source
Equestria's calendar is bloated with holidays and celebrations of all shapes and sizes. Celestia's favorite, however, is always Nightmare Night. There are few things better than surplus candy, after all.
Of course, this year her sister is back, but that probably won't cause any major problems.
---
A short fluff piece to commemorate Nightmare Night Halloween Discount Candy Day, the greatest of holidays. Thanks to Sereg for prereading.
DT the Lost Water Spirit did a dramatic reading of this story! Find it over here.
Chapters (1)