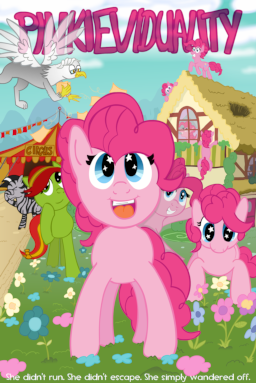 Source
Without knowledge of events taking place in Ponyville, a cheerful Pinkie-clone wanders out of town by simple chance – and stumbles straight into a traveling circus.
A few months later, she returns to Ponyville...
Can the grim conclusion of "Too Many Pinkie Pies" be led towards a happy ending?
---
"The lone pink pony happily bounced down the path, trying to catch the tiny blue butterfly with her hooves, not a care in the world. She'd left Ponyville behind a while ago – but obviously, the path would lead her right back to it. Either that, or it led to the water-mirror cave.
Not that she knew of any other places it could possibly lead to..."
Chapters (5)