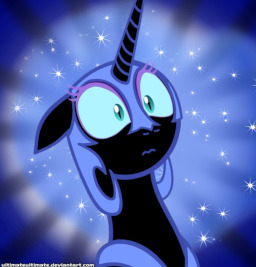 Source
On the day of Nightmare Moon's return, she ponynapped one of Celestia's royal guards for interrogation. However, she might be getting more information than she wanted to know.
Credit for cover art goes to ZantyARZ
So I thought of this after remembering a very funny skit from "A Bit of Fry and Laurie." I thought it would be funny if I did the same skit, but with Nightmare Moon and a Royal Guard.
This is also sort of an apology for not finishing "Princess Luna Received a Love Letter." So I hope you all enjoy this one!
Featured 02/13/2018!!! Thank you!!!
Chapters (1)