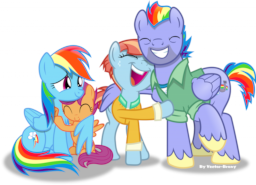 Source
Ever since Scootaloo met Rainbow Dash's parents, they have taken every opportunity to spend time with each other as much as possible. One of those times being Scootaloo's birthday. There, Scootaloo would receive the most precious gift that would change her life forever.
Credit for cover art goes to Vector-Brony.
Featured on 7/16/2020! Thank you all so much for the support!
Chapters (1)