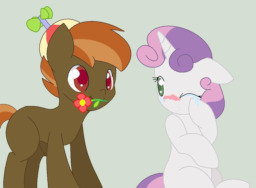 Source
Button Mash hoped to catch up on his gaming, but game time was interrupted by a filly's cry. Curious, he went to see who the crying filly was. He was surprised to see that it was his fellow classmate, Sweetie Belle. In hopes to help her feel better, he presented her with a flower.
Credit for cover art goes to RazieFim.
Featured 11/10/18! Thank you all so much!
Chapters (1)