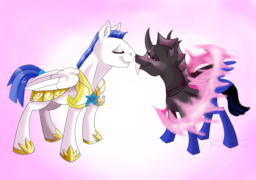 This story is a sequel to Not the Enemy
---
It has almost been a year since Titanium met Circe. Although he was a pony and she was a changeling, the two lived happily together. As time went on, it seemed like nothing would go wrong... until one day...
I am very excited to bring Titanium and Circe back! I hope you all enjoy!
I would like to thank the lovely Steam Punk for creating this beautiful cover art. She brought both Circe and Titanium to life. Also, please check out her DeviantArt page! Thank you Steam Punk!
Chapters (9)