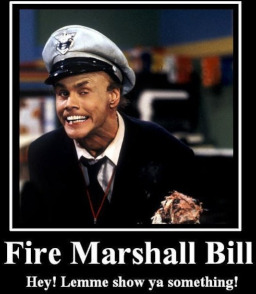 Source
Fire Marshall Bill is a man that can spot catastrophe even before it happens. That is exactly the kind of person Equestria needs to prevent any future disasters. Pay close attention as this man's lessons could save not only the citizens of Equestria but your life as well.
LET HIM SHOW YA SOMETHING!!!
If it wasn't obvious, this story was inspired by a hilarious character portrayed by Jim Carrey. I thought it would be fun to have a wacky character like him roaming Equestria. Well, fun for me at least. Hahaha! I hope you all enjoy!
Chapters (1)