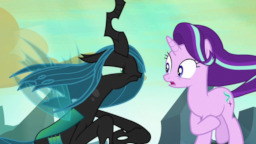 Nothing foils a good plan for revenge like having your plot explained to your target, and then being forced to spend time with said target without murdering them.
This is a lesson Chrysalis will learn during one of the strangest days of her life, courtesy of an insane (or possibly just inane) draconequus.
As for Starlight, well, it's not like she was doing anything. What's a guidance counselor in a school of friends even do? Honestly.
TL;DR Discord tries to forcibly ship Starlight Glimmer and Chrysalis.
Now has sequelitis! https://www.fimfiction.net/story/411966/discord-vs-harmony-the-greeting-card-industry-strikes-back
Chapters (14)