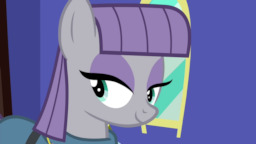 This story is a sequel to Discord vs. Harmony: The Greeting-Card Industry Strikes Back
---
Note: Reading the previous fics in this sequence isn't necessary, just adds context. You don't need context, do you? Nahh, you're better than that.
Chrysalis has had on heck of a month. First, Discord makes a game of pairing her up with Starlight Glimmer, which went entirely better than either of them would have ever expected. Then, as their relationship deepened and Chrysalis settled into her new life in Equestria, Starlight suggested she try stand-up comedy with Maud.
Nopony expected Chrysalis to take the offer seriously, least of all me, the author. But here we are. Is their comedy routine worth continuing, or are they about as popular as... well, Maud by herself? You decide. In the comments, I mean; don't keep that to yourself. Story will be updated whenever it amuses me, depending on reader feedback. Feel free to fire off suggestions via private message if you come up with something amusing, and I'll credit you in the author's note. T rated in case the humor gets more adult than an "E" rating will allow.
Chapters (6)