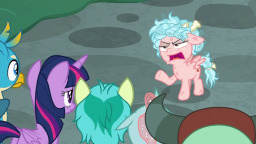 This story is a sequel to The Hero: Cozy Glow...?
---
In the last story, Cozy Glow became a super hero, mostly due to severe brain damage. You should probably read that before you get any further into this description, because spoilers abound! Part of the Cozy Hero continuity.
Living with Luna's been going pretty well for the filly the past few weeks, but with Hearth's Warming coming up, Luna urges her to go out and make some real friends. Cozy has her hooves full between that, her studies, and her super heroics, but to make matters worse it seems destiny has decided to get involved and dump even more responsibility on her.
Can't a former megalomaniacal psychopath catch a break?
No?
Well, you know what they say. If you can't catch a break, make your own. By breaking things. What? It works for Dash!
If you want more Cozy after reading this, check out The Mirror.
Chapters (10)