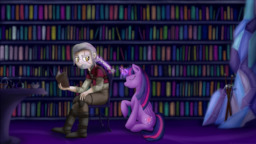 Cover art courtesy of Taggerung
And yes that's Geralt in Equestria Girl style for infinite justice
Note: Familiarity with The Witcher series is probably not necessary for enjoyment of this fic. There are a lot of references to events from the books (Especially Sword of Destiny), but the important ones are explained anyway.
Geralt of Rivia had a complicated life on The Continent. Navigating difficult political situations, getting shorted by his clients, slaying monsters, and living as an outcast had made things challenging for the witcher.
But now, Geralt has found himself in a foreign land, with foreign customs and behavior. Seeking to do what he has always done – find witcher's work slaying monsters – Geralt is about to discover just how simple things can become. And how challenging the simplest of things can really be.
Friendship. I'm talking about friendship. It's simple, but it's challenging, get it? Don't overthink this. The comedy and random tags exist for a reason. Also, sex tag is for references to sex, not because of actual sex. Get your heads out of the gutter.
Chapters (11)