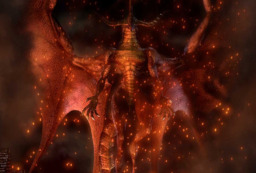 Source
Equestria. A world plagued by monsters. Their cities protected by magical shields, ponies afraid to step beyond the borders.
Four mares, friends for years and students of the powerful alicorn princesses, they possess the means to fight back.
And at their side, a dragon of unparalleled power. Sealed away for a thousand years, he is awakened by the very mares he now fights beside. But can he be trusted?
And what does he mean by "I'm not really a dragon?"
My own entry for the 'Displaced' series of fics. While I know they tend to have a dubious reputation, I'll try my best to provide you all with an enjoyable fic that brings the worlds of MLP FiM and Final Fantasy together.
Swords, sorcery and an awesome story. What more could you want?
Generously edited by Thadius0 he also providded much inspiration for this fic.
Edit: Featured the same day I posted the fic ; 6/02/16. Thanks so much guys and girls. I love you all~
Chapters (12)