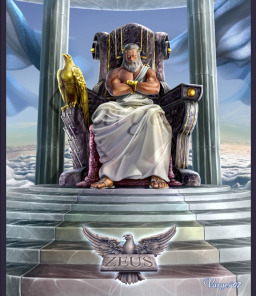 Dreams are a wonderful thing. They can inspire change or influence creativity.
An office worker by the name of Daniel finds himself returning home during a particularly strong downpour. He meets a strange bum sleeping on a bench beneath a covered bus stop. They have a stranger conversation and the bum offers to make a dream of his come true for a small price. Daniel laughingly accepts his offer, thinking it nothing more than the odd ramblings of a homeless man. He asks the bum to turn him into Zeus. Next thing he knows he was struck by lightning and sent to another world inside the womb of Rhea as she was ready to give birth.
Now it has been a few thousand years since all the myths and legends of Greek Mythology. Now, things have started to seem like a book series Daniel, now known as Zeus, always found to be a guilty pleasure. Percy Jackson.
Rainbow Dash & the Olympians -
The Parliament of Athena: Chapters 3 - ??
Chapters (9)