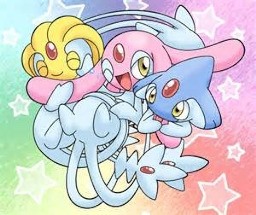 Mal, Una and Alex were dressed as the Legendary Lake Spirits from Pokémon Diamond and Pearl, when a pair of men gave them three Pokémon Eggs... I think you know what happened.
They created the elements of Emotion, Knowledge, and Willpower to a world without... That world being Equestria. Afterwards, they went into hiding.
A thousand years later, they are have their own children, and see a group of six mares. Here, they decide to follow the ponies for why most people would... Amusement. But that won't last, as an old enemy of the Mane Six seeks a new way to take Equestria... What kind of shenanigans can these three little cuties get into...?
A lot...
Oh, and every animal is a Pokémon now... And the ponies, dragons, griffons and others are humanized.
(Collaboration with Solphestus.)
Chapters (5)