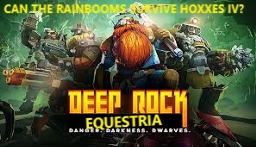 Sunset Shimmer, Rainbow Dash, Rarity, and Applejack wake up in a drop pod as someone welcomes them to a corporation called Deep Rock Galactic and remembers nothing about how they ended up in this situation. With guns in one hand and pickaxes in the other, they must work as a team if they want to make it back to the surface.
Pinkie Pie wakes up in a small cabin aboard a space station. Upon finding the quality of her new homes's food particularly low, she volunteers her skills as a master chef and lands a spot in the station's bar.
Fluttershy isn't of much use to Deep Rock Galactic at first, but that changes when she saves a dwarf's life in the medical room, and her new employer pays surprisingly well for a company that sends people to fight bugs miles underground in dark, scary caves.
Twilight Sparkle seemed too smart to be sent to the surface, so Management puts her on the Research and Development team in hopes that she can help them develop better tools and equipment for conquering the harsh world of Hoxxes IV.
Together, the friends must work harder than they ever have before if they want to survive the caves, climb the ranks of DRG, and--fingers crossed--return home.
---
Crossover with the game Deep Rock Galactic, which is a 1-4 co-op first-person shooter where you all play as dwarves that go down to the depths of a hostile alien world and mine minerals because Management pays you to. It's a hell of a lot of fun, and I highly recommend playing it with your friends.
I'm not sure how often I'll update this one, but it's still going to be a great adventure either way.
Character Progression Tracker and explanatory blog here. If you want to know what the girls can and can't do, this is the first place you should look!
EDIT: Added the "Narcotics" warning to cover myself as the girls begin using the complementary bar. In this story, it is assumed that all characters are of legal drinking age other than Twilight for the first while because she specifically mentions it (Don't underage drink kids). Alcohol is the only drug I will be using in this story.
Chapters (36)