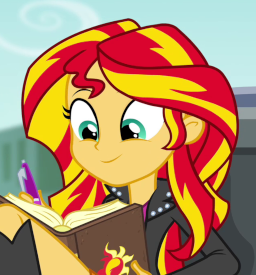 Graduation was supposed to be a happy day for the Rainbooms. Sunset and Princess Twilight had both agreed to temporarily shut the portal to Equestria so they could leave CHS safe and sound while they went on a post-graduation band tour. However, instead of SHUTTING the portal, they somehow made it explode, shattering the multiverse and scattering the Rainbooms across countless different universes. Now, Sunset Shimmer finds herself face-to-face with creatures straight out of dreams and nightmares, from the pages of legend to the screen of cinema.
Her best chance to reunite with her friends and get home: a self-proclaimed "Giant Nerd" and his old jalopy of a car, both of which are native to a world of silent observers of the multiverse, including her own life with the Rainbooms. Between his guidance and her courage, the two of them are determined to reunite the Rainbooms and get them back home...
Even if that means facing ink demons, xenomorphs, genocidal time-looping children, or even Egyptian god cards.
((The most blatant of self-insert fics. I am 100% aware of that. This is just a project to help me unwind.))
Chapters (112)