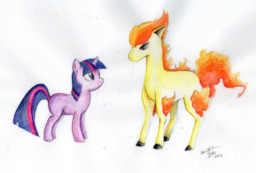 Source
When Dialga and Palkia start to attack one another in Alamos Town, a Ponyta named Flare Blitz is caught in the crossfire. After falling into the dimensional rift, he finds himself in a strange new land filled with brightly coloured ponies. Flare doesn't know how he got here or if he can even get back home...
The question is, will he even want to go home?
Edit: So I finally got offa mah flank and started the re-write. I want to give massive props to Blazinblade7 for editing as well as my little bro, who is teaching me a great deal of authory stuff.
Chapters (14)