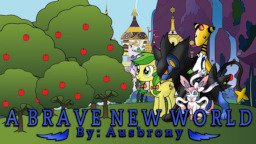 Source
Seth Crescent, an infamous Pokemon Trainer is suddenly whisked away from his home in Unova to a strange world filled with pastel-coloured ponies. Confused, lost and wondering where the rest of his precious partners have gone, the human-turned-Pokemon is rescued by Apple Fritter, a kind Earth Pony living in Canterlot.
She takes him in and offers Seth a place to stay while he finds the rest of his friends. Action, adventure and romance await as Equestria and the world of Pokemon are intertwined.
This is a side story to Zeusdemigod131's A New World, a New Way.
I'd like to thank him for giving me permission to write this, I'm having a lot of fun doing so.
I want to also thank Tdnpony and ZeusDemi for editing as well as the multitude of authors I kidnap ask to help Pre-read.
And thanks to Bubba for my new coverart. It's awesome!!
Also, the main series has a TV Tropes page. Go check it out and add to it!
Edit - I added the sex tag due to jokes and references made.
Chapters (56)