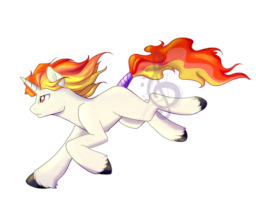 Source
This story is a sequel to A Pony out of Place
---
Set directly after A Pony out of Place. Flare Blitz, a Rapidash, turned pony, has opted to stay in Equestria, but things won't be so easy for him. Now a full-fledged pony, he has to earn a Cutie Mark, train with the Princesses, survive a love triangle and Arceus knows what else.
And most importantly... get Twilight to go out with him!
It has a TV Tropes pages too, check it out and help add to it.
Chapters (17)