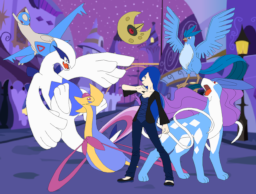 When ponies after three years still looks at Luna as Nightmare Moon and her sisters will not listen to her, she takes matters into her own hoffs. She travel to another dimension and will never come back. There, she discovers creatures she has never seen before called Pokémon. Then she decided to go on a journey herself with a help of former champion that has lost his spark.
---
Got the idea from this story from Cheesecake404
Mlp/Pokémon crossover, I own nothing.
Apparently, some are wondring why the sex tag is on, that's because Luna is naked in the second chapter. Nothing major.
Chapters (105)