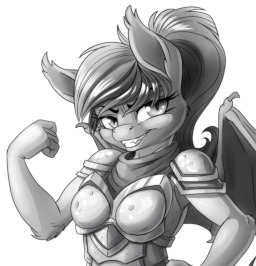 Source
Stella F. Sabre. An upstanding member of Princess Luna's Night Guard. A mare of the most profane lexicon in all of Equestria and self proclaimed sexiest mare alive.
She is also embroiled in a lifelong prank war with her boss, the aforementioned Princess Luna.
After one such prank, Luna decides to up the game and really stick it to the batpony. By using a spell that makes Stella irresistibly drawn...
To hugging.
Everyone.
Stella is not amused.
- To be honest, I can't remember what brought this idea about. It's sat in my 'to-do' box for nearly two years I think. Then one day I got a little inspired and finished it.
I will ABSOLUTELY blame Flammenwerfer for this however.
Rated Teen for Stella.
Chapters (1)