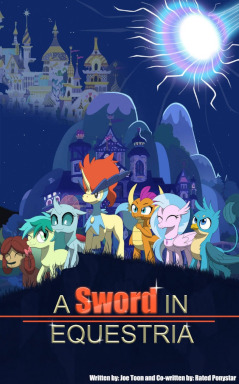 Source
Keldeo, youngest of the Swords of Justice. Student. Friend. Family. All that changed during a scheme done by the sinister Team Galactic, in another attempt to create a new world. With little time left and much to the horror of his comrades, Keldeo sacrificed himself to save his world. Heroes, Champions, Legendaries, the whole Pokemon World mourned for his loss. But as chance would have it, his story had just begun.
In the Magical land of Equestria, six students of Princess Twilight's School of Friendship found a peculiar unicorn colt in an open field. Keldeo now finds himself far away from home.
---
Adapted from Rated Ponystar's original concept, A Sword In Equestria follows The Colt Pokemon as he ventures across the world of Magic and Friendship.
Co-written and Edited by Rated Ponystar
Cover Art by: All0412
Chapters (6)