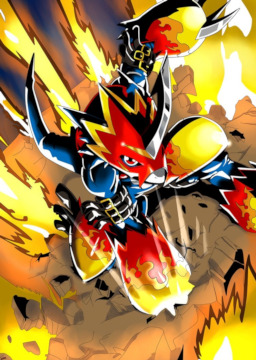 there are a vast amount of other worlds out there in the multi-verse, with different forms of life across them all, and sometimes the beings from these other worlds cross paths with other lifeforms from other worlds. Once such paths crossing was between humans and Digimon, however, this story is of a different crossing. This story follows the adventures of a Flamedramon that has been caught in a spatial distortion, which took him from the digital world to the world of My Little Ponies, Equus. And here is his story on how the Fire of Courage became one of Equus's greatest heroes.
---
-so aside from Magnamon (who was the star of me 2nd Digimon fanfic), my all time favorite Digimon is Flamedramon. like guys, i have to many plushies and toys of this guy, he's my Digimon partner!!!! so now he's going to be the star of my 3rd Digimon cross-over fanfic that I've been working on behind the scenes.
-now there will be a few surprises in this fic that I won't list here (until it shows up in the fic), but to give you a little tid-bit, this Flamedramon will get new moves, as well as OG Digi-volution. hopefully you all find this cross-over fic enjoyable.
Chapters (7)