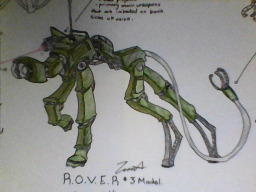 Humanity send in a mechanical beast to explore a new world they just recently discovered; however, this world wasn't uninhabited. Now the machine documents everything these unusual, yet intriguing creatures have to show…but will the creatures the machine discovered be welcoming to its creators, or not? Only time, and the future will tell.
Small Update: considering there are going to be more than one robot than I planned to be using for the story, I decided to change the title. credit for the new title is thanks to a fic-reader by the name of, RanBro.
Update 11/08/2020 - okay so....I'm at a lost for how to take this fic further, at the moment! so for the time being, I'm deciding to label this fic as Complete, but will make a sequel that will continue the story.
---
-now this fic just popped into my head and i couldn't get it out of my head, so i could focus on my other fics. not sure if this is going to be a frequently updated story, as it was spur of the moment that i just had to write down.
-the official size prompt is this. When compared to Ponies.
Adult Pony: 4 - 4.5ft. tall.
Foals: 2 - 3ft. tall.
Luna & Cadence: 5 - 5.5ft.
Celestia: 6ft.
-R.O.V.E.R (is basically twice the size of an African male lion.)
Height: 14.4ft. (head to feet)/Length: 21.5ft. (head to tip of tail)/Weight: 1505lbs.
Chapters (16)