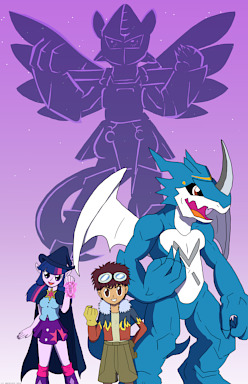 The newly-coronated Princess Twilight Sparkle uses her new authority to start a new project that could revolutionize magical studies: ENEIGHAC, Equestria's first computer.
When showing her latest pet project to her friends, a malfunction causes Fluttershy to see glimpses of an entirely new world with endless possibilities. Seeking an escape from her day-to-day frustrations, she uses ENEIGHAC as a gateway to the Digital World, where she can vent her anger without doing any real harm. But is the Digital World really just a simulation?
Shortly thereafter, a group of human children known as the Digi-Destined learn of a new threat to the Digital World's safety. A powerful digimon know as Vespimon, who seeks to continue what Ken started as the Digimon Emperor...
A crossover with Digimon Adventure 02. This is my first fic, so please let me know what you think!
Cover art by AniRichie-Art, and additional art by C8lin-The-Hedgie.
Chapters (51)