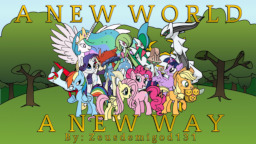 Source
Arceus has been imprisoned for many millennia, and in that time he has watched his world fall apart. But once he is finally freed from his prison he decides that to protect his Pokémon, and his family, that he will move the Pokémon, and a few select 'humans' to a world where they might live in peace, Equestria. However, not everyone on this new world shares his view of peace and the very presence of the Pokémon upsests some of the citizens of the world, even some of the ones he brought with aren't too happy with the situation. But a god's will is a strong thing and without his willingness the Pokémon and the citizens of Equestria are going to have to learn to get along, or at least tolerate each other. And there's a slight problem with some of the humans too, well, former humans that is.
Big thanks to tdnpony for proof reading, editing, helping me with ideas, and so much more.
Just a few of the side stories from my growing collection.
Pokemon, A Whole 'New' Frontier
A New World, A New Way-Swarm.
The City is Always Bustling On the Other Side
A Brave New World
A new World, Burning an Old Way
The rest can be found here, in my Fan Group. Group Linky.
Big thanks toxBUBBA1995x for the amazing new cover art!
I also have a Tvtrope page that is kept somewhat up to date by Kingofsouls if you know how to Trope, and want to help set it up, go here Tvtrope Link.
Since a lot of people keep aking this I'm gonna put an explanation here. I'm not following any one canon-verse here, I'm making a hodge podge universe with bits from the Manga, Anime, Games, and Movies, as well as some etcetera concerning issues addressed in none of them to great lengths. (Arceus' power is far beyond what he has in the games or movie and this does contain some Pokephilia, which comes from pretty much no canon material ever.)
Chapters (72)