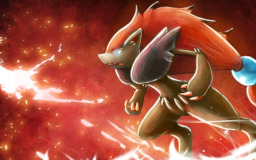 Source
Arceus knew that many of his pokemon would be able to live more freely on Equus, but even gods can make mistakes. When a human is separated from his pokemon in a strange world, he finds himself at a loss with the realization that he is no longer human, or anywhere close to it. With the help of a rather helpful duo of friends will he be able to make sense of it all? Will he be able to find his pokemon again? And why is it so much fun messing with the ponies using illusions?
A One-Shot based within this wonderful story by zeusdemigod131. Reading it is not nesscary, but personally recommended.
Cover image from this person.
Chapters (2)