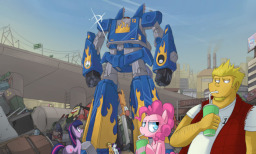 Source
Equestria is under siege by a terrible inter-dimensional titan and an army of giant robots. The Elements of Harmony have failed, all attempts to resolve the situation peacefully have proven fruitless, and no amount of pony forces seem to be able to combat this foe. In a desperate attempt, Celestia seeks out help from across dimensions for the only one versed enough to combat a threat of this magnitude. What she gets is a blond-haired moron piloting a highly advanced/modified giant blue robot with a car for a head...
Equestria is bucked.
** Authors note, this takes place before season 3. This is also a collaborative work between Darth Equus and myself.
Chapters (1)