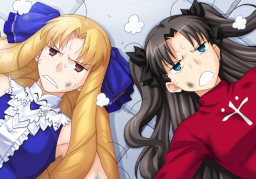 Fate Stay Night/ My Little Pony crossover (re-written)
Zelretch was in need of entertainment and realising that his students don't properly understand the concept of Friendship, decides to test them so they can learn.
Except the only dimension that places friendship above all else happens to ruled by a Diarchy and is called Equestria. Which is a world inhabited with intelligent Equines.
With Princess Celestia already having a student learn about the "Magic of Friendship", what is so wrong about dropping off two extra students?
Chapters (3)