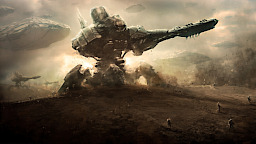 Source
Discord is bored.
Side effect of being trapped in stone.
But, that does not mean he's powerless. Quite the contrary.
He often wanders around the universe, if only as a spectator.
Throughout his wanderings, he finds a war-embroiled world, where the Vasari and Ortalians clash for control of Liguria.
Of course, Discord cares not for the conflict. Like a curious magpie, he 'borrows' one of the Ortalian mechs and brings it to Equestria just because.
An accident of sorts occurs when he causes damage to the mech's delicate mainframe, rendering it stupid, to put it simply.
Now, a barely coherent machine of destruction is wandering about on Equestria, fully loaded for war...
Some of you may ask whether or not the Executioner brings about extensive collateral damage to Equestria.
But the real question is whether it can discover the magic of friendship.
Chapters (23)