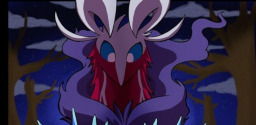 Source
So, I go to Comic-con to have fun with my friends and have a normal experience. I even resisted the temptations around me so I would not go cosplay as something. Go me. Unfortunately, the universe knows no bounds when it comes to screwing around with me.
Now stranded in a world and a body no longer my own, I'll have no choice but to face the politics and war that surround me. That and I also has to face the fact I'm in charge of a new kingdom and I have to look out for them as well.
My name is Philip. But some recognize me now as Yveltal, Pokemon of Destruction and Lord of Death.
Well, without further adiue, down the rabbit hole we go!
---
---
---
Displaced fic so if you hate that don't read. Displaced as a Shiny Yveltal!
Rated teen due to some violence and foul language!
We've got a great editor, Blood Angel Kirito who will edit things when he can, so don't rush the poor guy :3
The cover art is a clip from the amazing, and fluffy :3 , art series of SoftMonKeychains. So check out her work. She gave me permission to use her art as long as she gets credit, so thanks for that!
Crossovers will be done once I get situated!
Chapters (11)