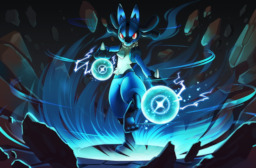 My name is Luke. Once upon a time, I was just a 32 year old guy on regular old Earth. That all changed one night during a blizzard with a strange light from my neighbors' house.
Suddenly, I found myself in a world I don't know, in a body I only know from Super Smash Brothers and bits of a movie my neighbor Leo was watching when I was helping them with a ceiling fan.
If that wasn't enough, I also found myself taking care of a dragon lady named Ember after she went and got herself injured.
Also, why the hell does she look familiar?
---
This story takes place in the same universe as Symphonicdysonince's story Equestrian Eeveelution. While you don't need to have read that to be able to follow this, I would still recommend reading the first two chapters at least, as there's a lot of information in those that won't be in this. Plus, it's just a really good story.
Chapters (56)