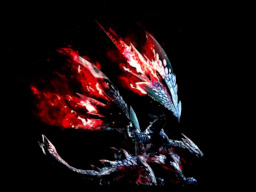 (Before any complaints, Yes I know Valstrax is not the most powerful Elder Dragon, but frankly, I find him to be the coolest, and we are each entitled to our opinions. Besides, there isnt much in the way of MH fan fics, so I thought I'd try something out.)
---
First things first, This is my private journal, that has been enchanted to let me know if anyone is getting into it. So unless I have given it to you or I'm dead, Expect a sonic boom followed by something red charging straight at you. Good? Cool.
So we have all heard of displacement. We have all read stories where we turn into our character from a game, or enter the world of it, or any number of combinations. Well I have to say this is a first, for me anyways, and no I'm sot talking about proving it's real or it happening to me in the first place.
No I'm talking about being turned into my favorite monster. You see, I play a lot of Monster hunter, and everyone has their favorite. Mine was Valstrax. The Rocket Powered Elder Dragon, as we fans call it. And that's not all, because of course not. Of course I'd be in a world called Equestria, where all fear me to be some creature made from a chaos god.
Well I shouldn't say all. Tia and Lulu seem to like me.
---
1/17/19: Featured.... WTF
5/10/19: Featured less than 20 minutes after posting. What the hell did I do to deserve you all.
8/13/19: You all are way too good to me. Featured again!
Chapters (8)