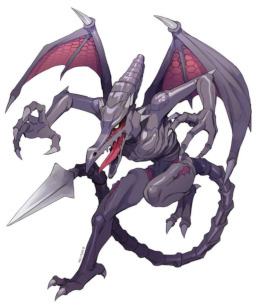 Jake Feldsparr, a college student and gamer, had a decent life. His family has always gave him support, but decides to do things on his own as he goes to college, but still keeps in touch with them. As for his friends, he hangs out with them at a college café, where they spend time playing, Super Smash Bros. Ultimate. His main character is, Ridley, and so far, he is the best.
Until one day, after the semester ends and beating a Smash Tournament, held at his school, he heads back to his dorm, and once he entered, an explosion erupted in his room.
After a painful fate, a bright light shined in his unconcious state, has awoken at a rocky land full of lava and dragons. But, there is something very different that, Jake noticed. No longer a human he once was, but a familiar purple space dragon.
---
Disclaimer: Ridley belongs to Nintendo.
Note: Tags will be updated in further chapters.
Chapters (6)