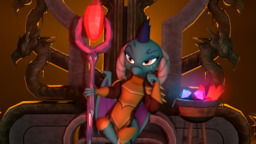 Dragons are good at fighting. Very good at it. Supurb, even.
So why are the dragonlands utter garbage?
This was the question that plagued Princess Ember when she became the Dragonlord. She had already proven her strength and power in the gauntlet of fire. In the end, though, it was Spike who retrieved the Bloodstone Scepter. Spike the clanless, whose form had no power, who worked with ponies of all things...
Something was going to need to change. And one thing Ember knew, Dragons... disliked... change.
This was originally for the Imposing Sovereigns competition, but was not able to complete it at the time. Cover art by Cider-Crave.
Chapters (1)