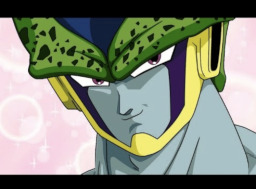 Going to a convention was one of the things I had on my possible things-to-do list, but I never went to one because going alone seemed stupid to me, a friend invited me to a convention nearby my city and I agreed to go with him, I didn't have any cosplay nor intended to wear one, I wonder what kind of stuff I could buy, maybe some Dragon Ball items, who knows.
Featured 02/12/2019, 03/12/2019, 04/12/2019.
---
"♪'P' is for 'priceless', the look upon your faces♪
♪'E' is for 'extinction', all your puny races♪
♪'R' for 'revolution', which will be televised♪
♪'F' is for how 'fucked' you are, now allow me to repriiise♪
♪'E' is for 'eccentric', just listen to my song♪
♪'C' is for 'completion', that I waited for so long♪
♪'T' is for the 'terror', upon you I'll bestow ♪
♪My name is Perfect Cell, and I'd like to say...hello.♪"
Chapters (4)