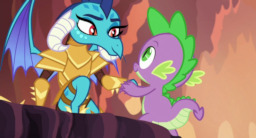 It started when they first met. A growing flame that began to burn in their hearts. It was unknown to them what this flame was, but it grew stronger as they got older and their feelings moved on from friendship to something else. Some fires grow slowly, but when given time they burn more passionate and brighter then any volcano.
***
Edited by CommanderX5 and roker12
Just a small series of chapters (no less then a thousand words) of a new ship I like a lot.
Chapters (20)