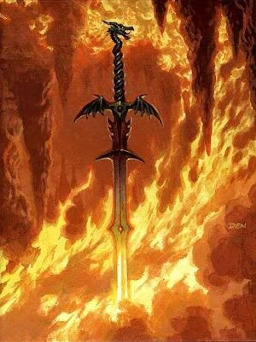 Source
This story is a sequel to A Growing Fire In My Heart
---
It's been twenty years since Ember and Spike have gotten together as a couple and much has change. Not only have The Dragon Lands prospered, but they, and other nations, have come together to form the Alliance of Harmony. United by friendship, it seems a golden age of peace have come to the world as their tenth anniversary approaches. Spike believes it is a good time to finally propose marriage to Ember, having decided to take her as his life mate.
However, the shadows of the past have returned as Tyranus Redskull, the last of the clan that sought to usurp Ember, has been gathering strength and an army of exiled dragon clans for the last twenty years for revenge. He seeks now the legendary blade of the First Dragon Emperor, Imperiax , and use its near divine like power to unite the dragons under his rule and restore the Ancient Dragon Empire with war and blood. To do this, he must travel to the unknown lands of the west that none have returned from.
Spike, Ember, and others are forced to travel there to stop him for the sword is so powerful it could bring every creature to its knees. Can Spike and Ember find the strength to stop Tyranus? Will their love be a weakness or a strength in the end? Will the peaceful world where all creatures are united survive or will the flames of war burn it to ashes?
Chapters (12)