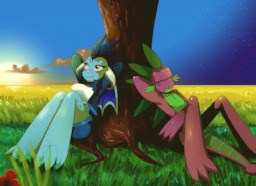 This story is a sequel to I Can Count On You
---
Ember, Lord of all Dragons, has been presented with a problem that has forced her to seek the help of her best and closest friend.
Now that Spike has arrived all she needs to tell him is her problem. An ancient law, one that no Dragon Lord can object against, has come into effect.
What's that problem? She is to be bonded with the winner of a special tournament as life-mates.
Additional tag: Action.
*If you are feeling generous you can buy me a Ko-Fi!!
*This fic will deal with a lot of fighting, but it shall not be gore related, and the blood will be kept to a minimum.*
**This is my first attempt at writing something based almost purely on fighting/combat in a tournament-like scenario.**
Artwork by Traupa.
Chapters (10)