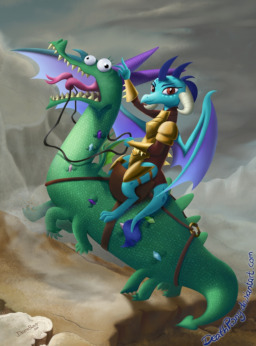 Source
Dragons, as a rule, are not subtle creatures.
Dragonlord Ember is far from a typical dragon.
Garble wishes he had a sane dragon for a Dragonlord, instead of some Cunning Optimist who's going to get them all killed.
Change is coming to dragonkind, one way or another.
Received an Honorable Mention in FanOfMostEverything's Imposing Sovereigns Contest. (It was in the "Ember the Mad" slot.)
Edited by SirNotAppearingInThisFic.
Cover Art borrowed from DeathPwny.
Chapters (4)