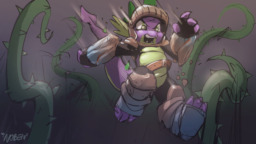 Source
Spike has hit his growth spurt making him happier than ever before... for about two weeks before he realized he was still the same, just taller and lanky. He still makes most of the chores around the castle, takes notes, reads comics, runs errands around town, and helps his friends whenever he can.
He's the same dragon he was before. The same coloration. The same appetites. The same hobbies. The same likings. The same fears.
The same weakling.
The same coward.
The same Spike.
He decides it's time for that change once and for all. And he knows exactly who to go to for that.
*Other Tag is there due to the sheer amount of other characters that are involved in the story*
**Prequel to You Can Count On Me**
Chapters (6)