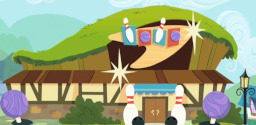 Dragon Lord Ember refuses to let her dragons be the only creatures in the world to go unreformed. So she orders her three worst dragons: Go to Equestria and make nice with the ponies.
Now Spike is stuck trying to help three belligerent and hypercompetitive dragons, with no idea how to keep them under control. Fortunately, there's one activity everypony he knows enjoys....
Set after Season Eight.
Chapters (1)