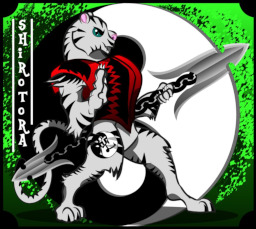 Currently undergoing cleanup
Call me Shiro. My story begins when I find myself in the land of Equestria. I would say something cliché, like, "a world I only thought existed in a show for little girls" or something, but it really isn't. I mean, sure, it's similar enough, but at the same time it isn't the perfect, peaceful world they depict. For starters, I haven't met a pony who hasn't had somepony the know and love get eaten by some predator. That's where I come in.
You see, when I arrived, I was changed into not a pony, but a tiger. I don't care what you say, I'm not a Gary Stu! Sure, I have chaos magic, get a girlfriend in less than a month, and get a katana, but the katana breaks... while fighting an elder god... Okay, fine, but I don't go full Stu. You never go full Stu. Anyway, this is the story about my quest to protect these ponies that I came to love.
Chaotic Harmony is an over-the-top action/comedy (emphasis on comedy) that takes all the clichés you know and love (or hate) and breaks, twists, turns them on their ears, or pumps them full of adrenalin and laughs as they rape your brain. This is, however, also a story about overcoming loss and forging a new life.
Contains: Different-but-not-quite-different-enough-for-AU Equestria, ridiculous comedy, over-the-top DBZ level action, borderline Stu self-insert, tigerxpony shipping, and dark, emotional chapters later on.
You'll laugh, cry, cheer, and d'aww throughout the rollercoaster ride that is Chaotic Harmony.
Chapters (90)