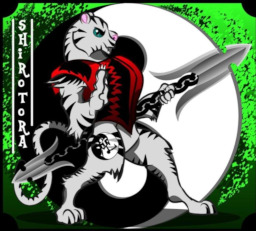 So, you think you know Equestria just because you watch My Little Pony? Well, I can tell you, the show barely scratched the surface. The name's Shirotora, and I'm one of many humans that call Equestria home.
Of course, where most humans find themselves in the form of a pony, griffin, minotaur or some other regular race, I happen to have the form of the servants of an ancient tyrant god that were sealed away along with their master thousands of years ago.
Yeah, that didn't go over very well with Celestia.
This is the story of my adventures in this crazy world of not-so-cartoonish ponies, along side a colorful cast of friends, including a crystal pegasus from Seattle, an eight hundred year old dragon-pony, a demon blacksmith looking to get contracts with mortals, and the worlds luckiest/unluckiest mare... Oh, and the Mane 6 are in there, too.
Together, we'll figure out why the hell predators are getting more violent, and why more and more monsters are suddenly popping up everywhere.
I just hope it doesn't have anything to do with some ancient, long-banished evil coming back...
It does, doesn't it...
Dammit.
---
This is a complete reimagining of my first successful story, Chaotic Harmony. While it will share some characters and events with the original, this is going to be an entirely different experience.
To those of you who loved the original, I hope you love this just as much. To those who didn't, I hope you find this an improvement.
Also, to those who have been following Children of Chaos, that story will also be reworked a little as a sequel to this, not the original.
Note: While this is not a true AU, there will be some pretty major deviations from canon. There is no AU tag because all major plot points in canon still happened in this fic, though the details of how they played out may have changed, and most changes could be wedged into the show's canon. There's also a little bit of 'dark', but not too much.
Basically, this was made as if the show was the kid friendly version of what happened.
Chapters (51)