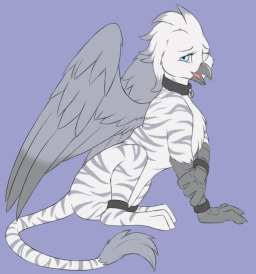 This story was commissioned by viken666. Gina, Fire Wing, Burning Trail, and Shadow Veil are all his OCs.
Gina was a beautiful, young griffiness known for her shy demeanour. Few ponies knew much beyond this short of her best friend, the princesses, and the Royal Guard unit that freed her.
Born into a life of slavery, Gina grew up as the personal pet of her master. Now, an adult, she tries not to remember her harrowing childhood, even claiming to others that she doesn't remember.
However, Fire Wing, her best and only friend, and son of the solder that found her, could see through that. He heard the pained, frightful moanings of her nightmares. It tore him up inside to see her suffering and so, after much effort on his part, he finally convinced her to speak to a therapist about her awful youth.
If you like this, please concider buying me a shot https://www.patreon.com/Shirotora
Chapters (1)