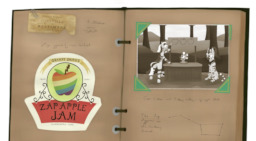 Granny Smith has had an agreement with Filthy Rich for years, making sure that he gets the first 100 jars of zap apple jam every harvest. What her grandchildren don't know is why, or how come their grandmother has agreed to increase that amount this year at the risk of losing the farm. They find a photo of a zebra family that Granny Smith becomes defensive over hidden in the pages of a curious scrapbook they have never seen before. They discover that there is a link between their dear old grandmother and the Barnyard Bargains businesspony hidden among the old photos and clippings, along with the answers to questions they never dreamed they would ask. Just what secrets are hiding in Granny Smith's private scrapbook?
Cover art done by the ever so talented Frostspear. Please check him out on DeviantArt, and give him your appreciation: http://frostspear.deviantart.com/
Pardon the mess, I'm re-editing and adding more content! Stay tuned for more!
Chapters (57)