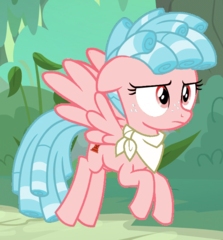 Source
I am Spur. I'm a fourteen year old teenage filly who lives on the bayou with my Ma and Pa. Most of you know me because of my little sister.
My little sister was Cozy Glow. One of the most reviled villains in Equestrian history.
(A/N: This story is particularly dark, so I've been told. Read at your own risk.)
Contains series finale spoilers. Cover image credit.
EDIT: My first featured story, 10/16-10/18/2019! Hooray!



EDIT: Featured again, 10/29, 11/17/2019, 4/6/2020, 5/26, 8/18, etc!

---
Some praise for My Sister, Cozy Glow:
I had just finished watching the finale, which killed my incentive to write, but upon reading this, I'm glad to say that it brought it back. Thank you for writing this, MicahDebrink. --IReadYouWrite

Man, there's so much emotional depth packed into each and every word. --Thought Prism

This fic is far outside my usual fare but I am still enjoying it immensely. --SockPuppet
Chapters (15)