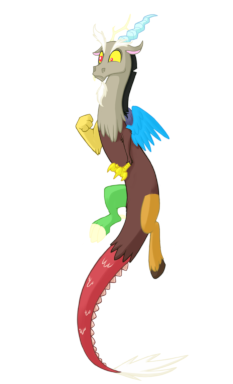 Source
Discord's the only creature in Equestria who can recognize the human for what he is -- not the long-lost Seventh Element that never actually existed and couldn't have existed before the human arrived, but a meta-reality warper, an entity far more powerful than Discord with the power to warp the minds of all around him and the very rules of magic to make sure that he's always the Big Hero. And the role the human's assigned to Discord is the Villain to beat down or kill.
Pre-reform Discord's fine with being the villain. But on his own terms. Not dancing on some alien interloper's puppet strings.
Without friendship, or even allies, Discord's going to have to find a way to defeat a creature who can alter fate itself and who can even mind-control him. Or he may just end up worse than dead.
Art by Tenchi-Outsuno. Progress Bar at my writing journal.
Trigger warnings: Mind control (magically induced love, magically induced friendship, magically induced stupidity, Discord being Discord), noncon/dubcon (magically induced love, other forms of highly dubious consent), rape (female on male), violence/gore (mostly against Discord), literally everything in chapters 19-21, humans not being presented as unilaterally wonderful and superior to ponies and/or draconequui.
Chapters (26)